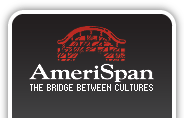 Free "19 Biggest Mistakes" Report
AmeriSpan Language Immersion Programs
AmeriSpan specializes in language immersion programs, semester abroad, volunteer/internship placements and other educational travel experiences.
AmeriSpan started in 1993 in a small apartment with only one phone line and one computer. Since 1993, AmeriSpan has grown tremendously, sending more than 30,000 people abroad to participate in our programs. We are constantly working to improve our existing programs, add new programs and help you select a program that best fits your needs.
All of our programs are designed around the basic purpose of helping you understand and communicate in another language with different people in a pleasant and fast way. Our 'formula' for accomplishing this consists of three ingredients for your success: intensive language instruction, cultural immersion and leisure. Many programs such as our volunteer & internship and SALUD medical programs include a service learning component as well. With AmeriSpan, you have the opportunity of choosing between different countries, target languages, housing, lifestyles and methods of instruction from our various programs.